I was lucky enough to be nominated and accepted into a weeklong Pesticide Regulatory Education Program for work. I've gotten to travel a lot for my job and was very excited to head to Davis, CA where I spent all of last week!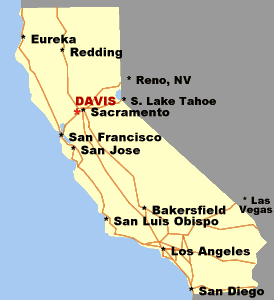 The course itself was great and I can't wait to get back to work and apply what I learned!
My days were full so I didn't get to do much exploring, but I did manage to make it out a few evenings to check out the areas around the hotel. I met some great people at the course who do the same thing I do, but in different states. Fun fun!
I was expecting it to be low temperatures out there, but figures it was an "unseasonably warm" week according to the locals. So it wasn't very cool out but it was gorgeous nonetheless!
My flights were good. I was really nervous this trip for some reason, but I made it there and back safely. So thanks for the prayers!
My hotel. Close to everything!
Davis is a bike riding city. Let me tell ya! It was such a quaint town. And school at UC Davis was starting back in session on Thursday so the students were everywhere. I may or may not have almost been taken out on a bike my first day walking around.
I was very excited to try Pinkberry. I was also very disappointed. Bleck. Nuberri is where it's at!
SO many cute places to eat!
Bike shop.
I know this is super duper unhealthy. But one of my days was particularly long, and I stressed all day over my presentation, so come dinner time I needed some comfort food. Yum-o.
I got to see David and my fur babies throughout the week via Facetime. I love technology.
Heading out to the Farmer's Market Wednesday evening.
Fresh fruits and veggies galore!
Bees at the Honey booth.
Some of the ladies in our group.
Serious business. I never really knew which one my trash should go into.
They fed us delicious lunches all week.
Such a gorgeous place!
Hola!
Cute sorority house.
I don't know what this is. Sorority or Fraternity but so different than the Greek houses here.
Heading out for the Rockstar Themed Graduation dinner.
And my way-over-used-that-evening-rocker-symbol.
Mmmmm.
Mountains on the way home.
Check out that gorgeous lake in the back.
I can't wait to go back to CA…on a vacation!