But instead I'm catching up on my neglected blog.
Why does packing suck.so.much?
It seems endless. I hate every part of it. And making the decision on whether to keep or toss something?
Wrenching!
Ugh.
But it does look like we'll be doing our punch list/walk through on Wednesday of next week. Then hopefully closing will be that Friday or the following Monday. Not much longer now!
So I just want to apologize for my absence. It's not because I don't want to be blogging, because I do. But because I have so.much.else I need to be doing instead.
This here is a fair warning that posting may be pretty sporadic over the next few weeks. But I'll be back soon!
Hope you're ready for lots of upcoming house stuff because I can't wait to overshare!
I've posted a few pictures here and there on FB and Instagram but haven't posted any here in a while. Sorry for the repeats!
We've been busy making decisions…
…on backsplash…
The fight over this stuff was not pretty. The Mr. was so anti-white on everything. He wanted tan tiled backsplash or mosaic. Although both are pretty in their own right, since I lost the white cabinet war (which I'm now secretly SO glad because I love love love our cabinets) I was going to win the backsplash war. And I did. It may or may not have involved a fit by me in Home Depot in which I launched a sponge (or three) at David in the aisle and pouted on the floor. Really, why do you care what color the backsplash is?
I.will.win.
And I did. And he loves it.
*gasp*
He told me that I pulled it off and it looks amazing.
As if I ever doubted it would?
…on granite…
I plan to sleep on this island. I love it that much.
…on lighting…and faucets…
All lighting is from Lowes.
…on appliances…
Lots of decisions!
Wood floors are in!
Carpet is in!
Stairs are pretty much done!
Visitors coming over already. I love it!
Hey Brad!
Also, I wanted to share about some awesome house numbers we got.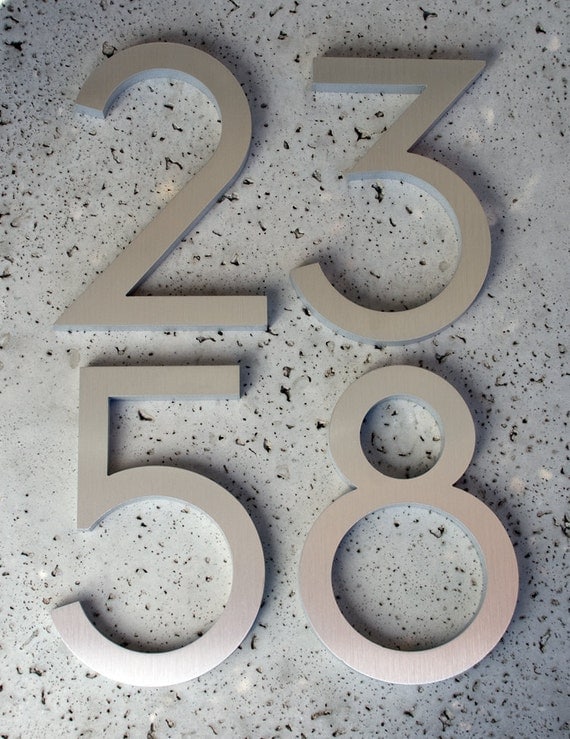 I have been drooling over the modern house numbers on Pinterest and Etsy like the ones above.
However that saliva dried right up when I saw the price tags. $120 for a set of 4? No thanks.
So I was so so so excited to find very similar numbers at Home Depot for $5.99 each. They are 3" shorter but still very modern and cute. And at 5" tall, plenty big for what I need them for!
As much as I loved the brushed nickel, we purchased the dark ones to match the lanterns out front. These numbers can be mounted flush or they can float.
I can't wait to see them up on the house!
So that's probably the last house update I'll share before we close. After that, it's the grand reveal!
Then again I'm bursting with excitement so who knows what will get posted between now and moving day!