I would like to start one. A fund. Anyone wanna help me wash cars and rake lawns and then contribute all your earnings to my Crafting fund? What? You don't see that as a good deal? Ya, I don't blame ya…
Lately I have been a little bit sad because all I seem to want to do these days is craft & unfortunately I don't have an endless supply of money. And let's face it, crafting costs money, even in the scheme of DIY'ing and pinching pennies by doing things yourself.
For example, the floating shelves we made here were much less expensive than say buying each ready made from the store. But it was still about $30-$40 to build them. Not a lot in the grand scheme of things, but still saved us a bunch versus the latter, buying them @ $30 a pop in the store.
Well if your brain is like mine and you constantly have ideas and projects running through your head, and a husband who likes to stick tight to budgets and such, those small scale $40 projects add up- quickly.
Which brings me to my current "want-to projects" that are on hold until I get the go ahead- hah!
As I said in a previous post, I am planning to re-paint our guest room and actually make it a welcoming room and not just a room for storing stuff. Currently the room holds David's old bedroom set, a spare fan, (the one we replaced from the living room) and a desk that David's dad made. All of it is nice furniture, but it's just not the style that fits in with our house as its all oak and has brass pulls. We are so thankful David's parents let us bring it with us when we moved but now I am ready to change it up & since BALKED at the idea of me repainting it, it's going back to its original owners. We are moving the furniture back to his parents house and after that all we'll have in there is a bed with no head or footboard. I can't remember if I said before that I was wanting to make an upholstered headboard for that room, so if I did, you can skip this part because I'll be repeating myself and I'm too lazy to go back and look-haha! So anyway, I have watched several tutorials on DIY headboards and I am so ready to get started on it. I found some great Fabric at Joann's for a hefty $9.99 a yard, but luckily I only need 3 yards of it and since it's actually outdoor heavy duty fabric, I think it'd hold up much better than the regular thinner stuff. Add to that a piece of plywood, batting & foam and a headboard you will have! Hopefully I can get the room painted soon and the headboard made so that it's somewhat done by the time we have our house warming party. (which we still have yet to set a date for but should be in the very near future.)
And you may also remember that I was planning to paint the room Benjamin Moore's Dune Grass which I saw on Young House Love's bathroom remodel post. BUT…I think I may have changed my mind. The green in our master bath turned out way greener than I was hoping it would, so I may have had my green fix. Any guesses on what color I have in mind? Okay I won't leave you in suspence; Gray! It is just so pretty and soothing and feels really airy. Plus, that's my maiden name so it scores extra points! Just check out how pretty this gray room is.
I am leaning towards a very pale gray, and when I broke the news to David this evening, he happily agreed! Yes! Crisis averted.
Oh and I was given a BEAUTIFUL armoire for free when a friend of my mom's was moving, and since we didn't have any where to put it that fit just right, it found a temporary home in my parent's living room…and my Mom filled it with movies, CDs, stereo, etc… Well, I told her the other day that as soon as I got the chance I was going to take it back. It's not Indian giving if it was temporary in the first place, right?! I want to paint it white or a really pale aqua with a distressed look and put it in the guest bedroom. Oh I get chills just thinking about it in there with those pale gray walls! But did I mention it is a BEAST? I'm talking it's got to be a few hundred pounds so it's not something I can just tote outside and have at it. It needs a moving day arranged. Seriously. It reminds me of the armoire thing in Beauty & the Beast. (Another one of my favorite movies). It will be quite the project to 1)move it 2)sand it 3) paint it 4) distress it 5)re-finish the knobs 6)move it again to our house
Another project that I want to get done is to get some curtains for our bedroom and the dining room. The only costly part (I think) will be the curtains themselves. I could make them but with the amount of fabric I'd need, I think it'd be better off ordering them from Ikea. I want them long enough so I can hang them several inches above the window to give it that tall look-ya know, like this-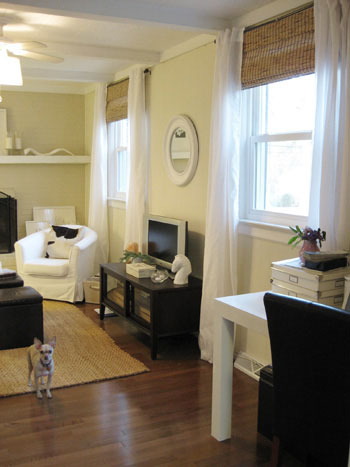 And I found one of the best money saving ideas I've seen yet, curtain rods out of PVC pipe! If I can't find some clearance ones somewhere, I will definitely be creating these bad boys which I found on the blog (alittleofthis--alittleofthat). Just check them out!
Those are the two big projects I want to complete soon-hope I can talk the Hubcap into letting me get started!
On a totally (sorta) different note, my birthday is right around the corner!
I'm well aware that "around the corner" is still a month and a half away, but it's never too early to start making a wish list! Some things I'm asking for my birthday/Christmas:
A hand sander. When I do have the opportunity to makeover something, it almost always needs sanding and I always see these on the craft blogs I read so I figured I'd put it on my want list. Make my job (or David's!) easier when it comes to doing the least fun part of a project. Probably not on everyone's birthday list, but hey, these days for me I'd rather have a tool to help with my projects than a new pair of shoes! (Okay maybe not completely true…but pretty close;)
I would also love to be the owner of Father of the Bride I & II. They are pretty high on my favorite movies ever list and I just can't believe they're not already a part of my collection. This must change!
And lastly I am hoping to get some money! Hah! I know that sounds bad, but unlike the years past where I wanted money to go shopping for clothes or other useless stuff, this time I am wanting money to go towards my crafting projects & then for Market Days in December! I know that may sound silly, but honestly if you know David he is quite the financier and forking out large amounts of money for un-needed objects or funding my shopping trips is not something he's big on doing. Now don't get me wrong, that doesn't mean I don't go without, I usually just fore-go the smaller useless purchases until we get to splurge on something bigger. Like my camera, new laptop, new car, etc…not too shabby of a deal if I do say so myself. Therefore, often I/we go without those small shopping trips, eating out, etc…I do LOVE though when the mood strikes him and he's feeling generous to fund those other trips! Haha! But, because he's like that, we're able to live the way we do which I'm very thankful for. We know we are blessed to have the things that we do, but we're also very responsible and make a lot of sacrifices when it comes to spending money. We work hard & save hard for the things we have & the things we hope to have in our future. We like to buy now/pay now versus buy now pay later and that's one of our strong points. And although I don't live by the word of Dave Ramsey, I do like some of his quotes, including one I saw as a bumper sticker the other day..."Debt is normal...Be Weird". And proudly, weird we are! Also just to make sure I'm not making David out to sound like a money hoarding controlling husband, he isn't "the only boss" of our money. After all it is ours, not just his, he is the budgeteer in our marriage and he does a much better job of it than I do. I am responsible and all that jazz, but I also like to live in the moment...you can't take it with you when you go! Needless to say if I was the money lady I would eat out every day just because the money is there, and not worry so much about the future. hah! Luckily I have someone who keeps us in check!
SIDENOTE-->The info. in this post is strictly my opinion and the way we do things in the Casa de James. That doesn't mean it's the right way or that our way is better than anyone else's...it's just what works for us!
David's money saving habits have also earned him the title of being a cheapo. This comic is exactly him-hah!
Anyways, to return from my personal financial tangent, hence the fact I want funds for my bday! I know my family probably doesn't want to give me money knowing that it'll go towards something in my house versus an "object" I can enjoy, but I see it as someone funding something I really enjoy doing, whether that is making an upholstered headboard for my guest room or spray painting a mirror for my foyer. These are the things that I love to do and I feel like it's becoming a part of who I am! I am happy when I'm crafting so a crafter is what I've become:)