I recently acquired an electric organ from my Great Grandparents. It was offered to the fam before being given away and I decided to take it. I'm still not sure what I'm going to do with it (hope to give it a spiffy new paint job and let my future kids play on it someday) but for now it's hanging out in my spare room.
In addition to the organ, I unexpectedly got a cute little bench with it.
I've had it sitting by my front door and it was a good drop-off point for purses, shoes, etc...
It was cute but I knew as soon as I saw it that it'd be an easy makeover and a perfect size to do something bold to it and get away with it.
So, I painted it yellow!
Yesterday right after I painted it, it was taking on an orange-ish yellow hue. I wasn't happy with it at first but decided to let it grow on me. And then lo and behold 24 hours later it set and the color magically appeared sunshine yellow!
This was a super easy piece to re-do.
Cover areas you don't want sprayed. I decided to leave the inside the natural wood so I tin foiled and taped the areas I didn't want painted.
Give the whole thing a light sanding. The primer says it doesn't need it, but it was small enough and easy enough that I went the extra mile.
Go me.
Wipe it down real good with a cloth, and use some primer. This was my first time using Zinsser primer and I'm never using anything else again.
This stuff was THE BOMB.
Primed and ready for some happiness!
One coat down.
The box is stolen from work…my boss asked if I was moving when she saw it in my office. I told her no, I'm just spray painting. Hah
Three light even coats later. Such a sunny little disposition even on a drab day.
It makes me smile.
Hmm, I should have dusted out the inside first. Whoops.
And so you don't have to scroll all the way up, the before and after!
Oh and one other thing, this weekend I was at Marshalls with a friend and I found this amazing entry table. (Pic below)
But wait let's rewind a sec cause this gets fun.
On Tatertots and Jello recently I saw this entryway and fell in love with this table.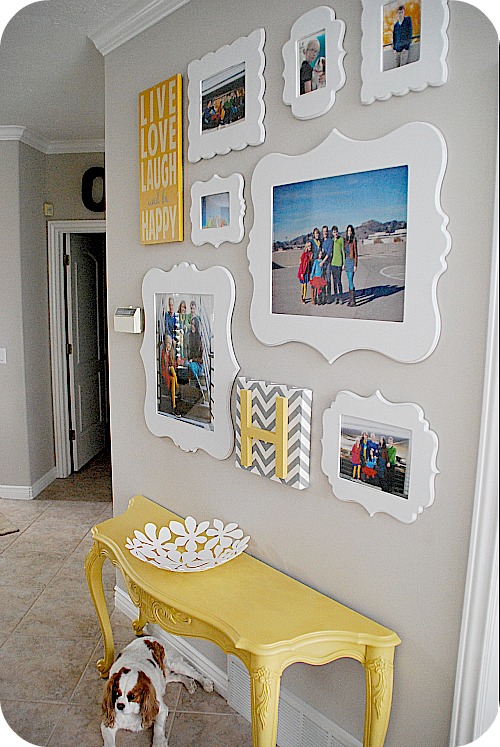 So cute right?
Well, that's where the idea came from to paint the bench yellow. I just loved the table and the color and since I didn't have the table, I'd do the bench that color.
Friends, it was meant to be.
Friday night I won $46 (!!) at Bunko and Saturday…
…I found this awesome table for $60 at Marshalls so it only "cost" me $14!
It's not nearly as big but that's okay because I already have a large-ish entry/sofa table so this cute one is perfect! I just styled it in this spot for the picture, and although it looks great there, it's too close to my sofa table so it's going to live in another area of the house. I LOVE the dark sooty grayish blue color.  
But isn't it so cute?! I snatched it up so quick in the store and walked around the whole trip clutching it to my chest with the legs sticking out perpendicular to my chest. I set it down once to look at something, a lady touched it, I gave her the evil eye and picked it back up and held it. I wasn't going to let it go home with anyone else!
Because I'm sure everyone in that store was there to buy that table…hah.
One other thing to note, I got a new toolbox! I love the one my Dad gave me, stocked I might add, and I use it all the time. But my tool collection is growing so I decided to upgrade.
I got this big green one on sale at Lowe's for $15. Can't beat that with a stick!